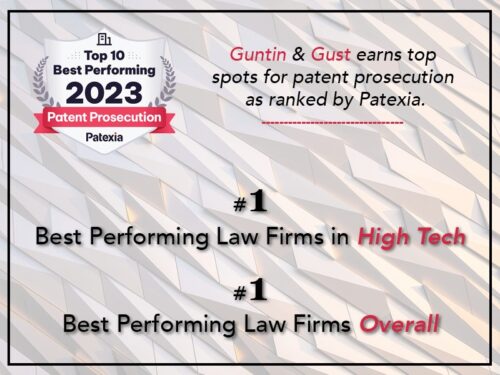 Patexia evaluates over 3000 law firms nationally and tens of thousands attorneys annually
to deliver independent rankings on the top 100 firms based on activity and performance.
Per Patexia, firm performance is measured by efficiency, which Patexia defines as based on a firm's success in obtaining "a valid patent with the broadest feasible claim in a cost effective and efficient manner."
In Patexia's Patent Prosecution 2023 Intelligence Report, Guntin & Gust continued to earn the top spots in two categories:
#1 – 100 Best Performing Law Firms in High-Tech
#1 – 100 Best Performing Law Firms Overall
Additionally, G&G achieved a top 100 ranking for the Top 100 Most Active Firms for 2023.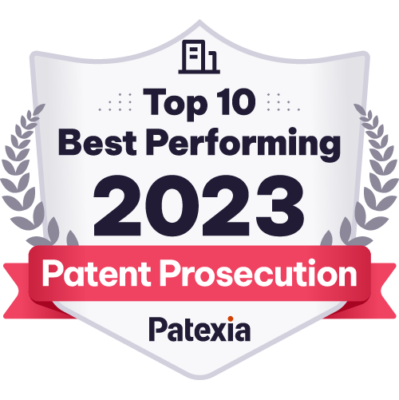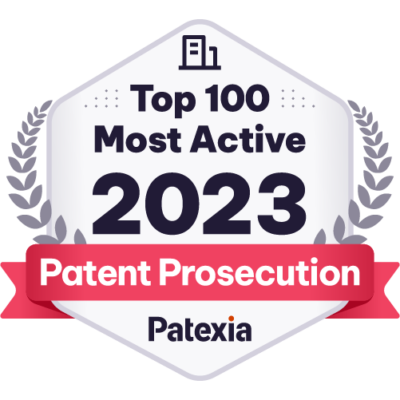 The firm also had the following six attorneys who made it onto the list of Top 100 Performing Attorneys for High Tech:
• Jay Anderson
• Atanu Das
• Robert Gingher
• Andrew Gust
• Doug Schnabel
• Ralph Trementozzi
About Patexia:
Founded in 2010 to bring efficiency and trans­parency to intellectual property by leveraging the power of data, technology, and experts, Patexia is the largest network for IP professionals with over 100,000 profiles. We offer IP services in four ar­eas: Lateral Opportunity and Recruiting, IP Analyt­ics and Insights, Expert Services, and Patent due diligence. Contact us today to learn more.