Thank you to IPLAC for hosting this wonderful event. G&G was happy to celebrate Judge Cunningham's incredible accomplishments and the added opportunity to meet with clients, fellow attendees and forge new acquaintances.
Congratulations to Judge Tiffany P. Cunningham of the U.S. Court of Appeals for the Federal Circuit for receiving this year's IPLAC Distinguished Judicial Service Award.
Special thanks also to clients and colleagues who joined us for the evening, those pictured below as well as Linhda Nguyen (UHG) and Kyle Chen (JPMC) not pictured. The occasion offered the chance to spend time getting to know one another outside of our offices. So great to see everyone there!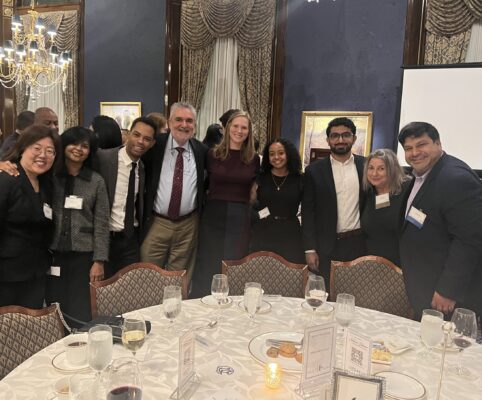 From left to right:  Miyoung Shin (G&G), Rathna Koka (JPMC), Lucien Carter (JPMC), Ed Guntin (G&G), Ann Palma (Saint-Gobain),
Selam Getaneh (JPMC), Zain Sadiq (JPMC), Lisa Becker (JPMC), Atanu Das (G&G)
IPLAC – Intellectual Property Law Association of Chicago, is the first association of its kind in the US. The organization is committed to protecting innovation both in Chicago and nationally, "by advancing the tenets of IP law in order to serve our members and greater community." IPLAC accomplishes their mission by offering members opportunities for professional growth and development, networking opportunities and events that serve to create a diverse and inclusive environment while promoting the advancement of IP law.